I have been a wall these past few weeks due to re-entering the new semester of a bachelor degree. Since I have academic writing for this semester, it is really important to secure my place for practical which will be on my last and foremost, next semester!
Enough with the insight of studying things, moving on to the post which I will post about, 'Buku Jalanan'.
The first time I heard about Buku Jalanan is when I'm in UiTM Lendu. There are a bunch of guys that hanging around at the side of Tasik Tun Fatimah (which was famous for it 'story').
Click here for Buku Jalanan Lendu insights.
I encountered this community at the right time because it was fun with the weekly theme like berbuka puasa or even cleaning the lake!
But the important objectives of Buku Jalanan is like an open library, where they open for borrowing or donation for books. This effort is to encourage people to read and share their thoughts with layback environment.
Therefore, I will tell you two places of Buku Jalanan that I have visited last month.
Buku Jalanan Keramat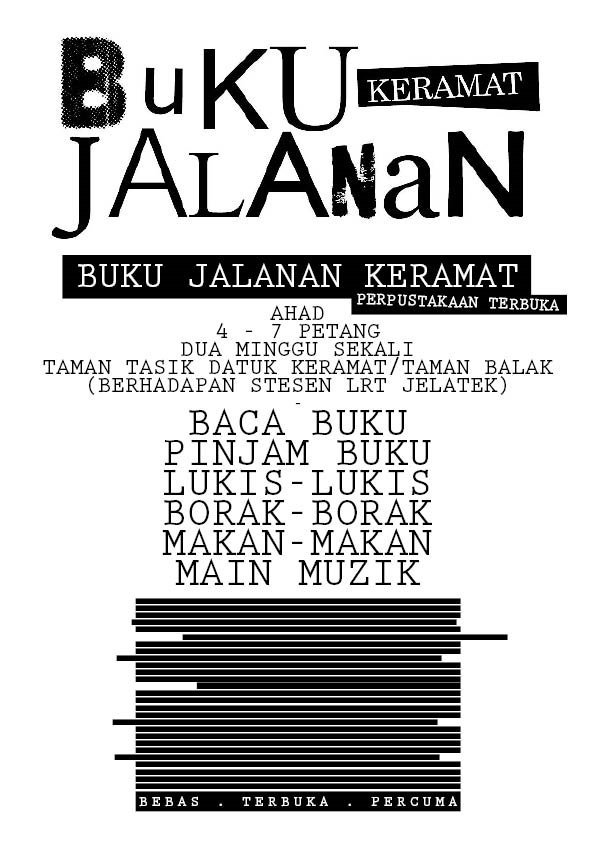 New on the BJ family! Click here for any updates.
When I went visit last month, it was their second time there. Same concept like I told you earlier, it's the place where you can borrow and donate books to them!
I was lucky because, during my visit, they just happened to perform. Plus, the places are just ideal for this activity, you can jogging, play badminton or football, grab some foods and all I can say is, just give it a try when you are nearby. They are very friendly and who knows you might bring back good reads to your home!
Buku Jalanan Chow Kit
Let me tell you something. After BJ Keramat ends, we went to BJ Chow Kit after that. So yeah, it was a productive day.
At first, we didn't found the place, but when we walk to the alley, we found it! If you have happened want to visit them, it's nearby Tune Hotel just walk towards the 'soup kitchen', it's at the alley.
When I saw the view, I was surprised and kind of touch because there were kids all over the places!
If I'm not mistaken, this community just happened around September last year and it teaches the kids of Chow Kit. Not just that, when having a conversation with the people around, they just opened a class for the older people, where they will learn to recite the Quran. It was really educating but in relaxing and fun mode.
Click here to contact this community.
So, that's all for this week update, I will try to take care of this blog more and will update a usefull post for you guys.
Till then, have a nice day ahead!